The information about this demon has been completed.
In order to add new information, contact a
Content moderator
.
...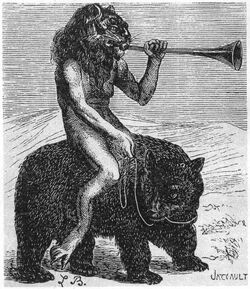 Purson (also known as Curson or Pursan) is a Great King of Hell, being obeyed by twenty-two legions of demons. Purson is depicted as a man with the face of a lion, carrying a ferocious viper in his hand, and riding a bear. Before him there can be heard many trumpets sounding.
Trivia
Purson knows of hidden things, can find treasures, and tells past, present and future. Taking a human or aerial body he answers truly of all secret and divine things of Earth and the creation of the world. He also brings good familiars.