The information about this demon has been completed.
In order to add new information, contact a
Content moderator
.
...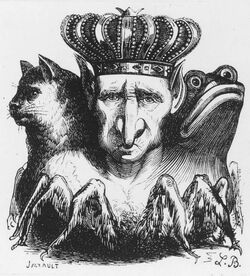 Baal (also known as Bael) is the head of the infernal powers. Bael is first king of Hell with estates in the east, who commands sixty-six legions. He has three heads: a toad, a man, and a cat, and speaks in a raucous, but well formed voice.
Trivia
Baal teaches the art of invisibility.
Baal may be the equivalent of Beelzebub, one of the Seven princes of Hell.